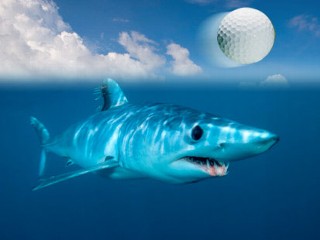 Shortfin mako sharks can swim at an amazing, 50 miles per hour.  That is fast!!!  But how do they do it?  Scientists think they have discovered the answer.
The sharks have special scales across their skin that they raise up when they need to swim at a fast speed.  This creates tiny wells on their body and actually helps them to move faster by reducing drag.  It seems strange that by raising these minute scales that they could reduce drag (wouldn't it create drag and make them slow down like millions of tiny parachutes?).  But their scales work along the same principles as a golf ball does with it many dimples.
The idea is that the dimples on the golf ball and the scales on a shark create tiny whirlpools within the cavities.  These whirlpools create a "buffer layer" between the surface of the shark and the fast moving water around it.  Basically it is like moving a heavy box over marbles rather than dragging it across the floor.
The whirlpools also prevent a turbulent wake from forming behind the shark.  A wake behind an object (for sharks as well as boats) has the effect of slowing it down and making harder to turn.
Scientists hope to use this discovery to design faster and more manuverable underwater vehicles and aircraft.